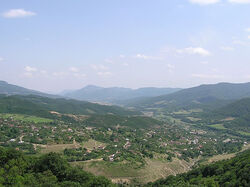 Nagorno-Karabakh (Լեռնային Ղարաբաղ or Lernayin Gharabagh) is an autonomous Oblast and de facto independent republic in Azerbaijan, currently under the control of Armenian forces in the Caucasus who declared independence in 1991, at the beginning of the Nagorno-Karabakh conflict, ending in 1994 with the local Armenian population in control of the region. The Area is also commonly referred to as Artsakh, after the ancient Armenian province of the same area.
Ad blocker interference detected!
Wikia is a free-to-use site that makes money from advertising. We have a modified experience for viewers using ad blockers

Wikia is not accessible if you've made further modifications. Remove the custom ad blocker rule(s) and the page will load as expected.