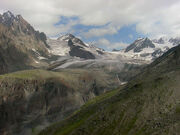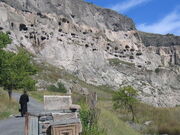 Georgia is a country in the Caucasus.
La Georgie est un des premiers pays a adopter le christianisme. (Eglise orthodoxe depuis 1054)
La population est 4 600 000.
Le drapeau est la croix rouge de St.-Georges. St.-Georges est aussi le saint patron de plusieurs pays comme l'Angleterre est la Catalunya.
La chanteuse anglaise Katie Melua (9 000 000 bicycles etc.) est d'origine georgienne.
En 2008 la Georgie declenche la guerre contre l'Ossetie du Sud. (howls)
Elle s'empare de la capitale de Txinval (TChimbal) mais les russes arrivent el les battent.
Tchimbal est largement detruit.
(Additions 3/14)
Ad blocker interference detected!
Wikia is a free-to-use site that makes money from advertising. We have a modified experience for viewers using ad blockers

Wikia is not accessible if you've made further modifications. Remove the custom ad blocker rule(s) and the page will load as expected.